Exhibitions of works of contemporary European artists
Tanya Kush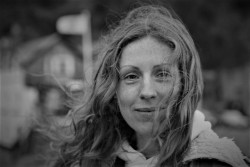 Ukrainian painter. Born 1975
Exhibition
2017 "11" gallery "KhudGraph", Kiev,Ukraine 2014 "ArtHouse" gallery "Minus Four",Kiev,Ukraine
2017 "Contemporary Ukrainian Artists" gallery
"Artist",Kiev,Ukraine 2014 "Fragment"personal exhibition
"Freudehouse",Kiev,Ukraine
2017 "Un Seul Grain De Riz-Anges" gallery
"Metanoia'',Paris,France 2014 "In Spiritum""Evartspace",Geneva,Switzeland
2016 auction ''Kiev Lions Club'',Kiev,Ukraine
2016 ''374 artists'',Kiev,Ukraine
2016 ''Womansessens'' internationalartspace ''Art-
Ego'',Milan,Italy
2016 ''Art 14'',Kiev,Ueraine
2016 ''Love Yellow Giants'',Odessa,Ukraine
2015 ''Winter Fell'',Kiev,Ukraine
2015-2016 ''Oncoming" "Art 14",Kiev,Ukraine
2014 ''Urban Lifestyle-Fashion'',Amsterdam,Holland
2014 "Days Of Turkey In France'',la Ferte Bernard,France
2013 "GogolFest",Kiev,Ukraine
2013 "Days of Ukraine in France" la Ferte Bernard,France
2013 "Dreamers" museum "Spirituals treasures of
Ukraine",Kiev,Ukraine
2013 "Night" "Palace of Arts",Lviv,Ukraine
2012 "GogolFest",Kiev,Ukraine
2004 "I am your mirror"personal
exhibition,gallery"RA'',Kiev,Ukraine
Nadya Kovba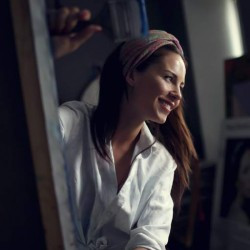 Facts of life:
She feels the color, loves it and combines colors very skillfully.
Valery Blokhin, a well-known representative of the academic school of painting gave a positive reaction to the compositional structure of the artist's paintings. He noted the impact of Claude Monet and Mark Rothko on her work.
Nadya loves travelling. It brings her inspiration for the future works.
The painting school took place in "Art-gostinaya" by Nadya Kovba. "Everyone is given. to see the world on his own way. Everyone can draw. The most important thing is to open what is hidden to oneself, but not to the public."
Lived for three years in Thailand, studied with the famous painter Bright, daring, successful. Nadya is one of those people who cause envy in floppers. Everything comes out well, whatever she is up to.
She study at a famous Saint Martins University in London and passion for photography. The journey to the great art started. In 2004 Nadya first felt interest in art. The transition from photocamera to painting was very easy. An impeccable sense of composition, which also took place in her photographs, helped Nadya to feel comfort in the space of picturesque canvases.
There are almost no particular images in her pictures. In most cases, the main character of her works is the color that structures the space of the canvas. According to the artist, the work with color allows her to have a dialogue with the audience and release her aggression or tenderness
2004 - personal exhibition in the Novaya gallery (Moscow)
2005 - personal exhibition "He" Gavrilov gallery (St Petersburg)
2009 - personal exhibition "Performance romance", "ЯRgallery" (Samara)
2013 - personal exhibition "The Beginning", "Art Center" (Moscow)
2015 - participant of the group exhibition "Between The Sound And The Color", "Art Center" (Moscow)
2015 - personal exhibition Soul, Gallery "Ladya", (Samara)
2016 - Member of the Creative Union of Artists of Russia
Pazza Pennello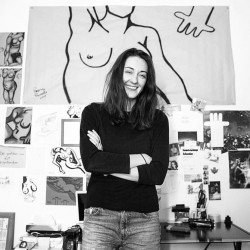 (b. 1987), painter and video- artist born in Odessa, working in Kyiv
Solo exhibitions
2012 "Art-night" restaurant "Korona-club",Kyiv,Ukraine
2012 "I love you,Andy Warhol" gallery "Art Prostir 365",Kyiv,Ukraine
2011 "Wikipedia" gallery "Markoff", Odessa,Ukraine
2010 "Eclectism" art-café "Papier Mache",Kyiv,Ukraine
2009 "British things" art-café "Babay",Kyiv,Ukraine
Group projects
2017 "New Wave Art Festival",Lviv,Ukraine
2016 "Subconscious and space",Kyiv,Ukraine
2016 "Artists draw.A4,ball-point",Kyiv,Ukraine
2015 "Art in progress...before and after" ,Kharkov Municipal Gallery,Ukraine
2015 "Granice mozliwego",Ukrainska Wiosna,Ukraine
2014 "The Boundaries of Possible",Art Kiev Contemporary IX,Ukraine
2014 "The Second Sex",Nuit Blanche,gallery Les salaisons,Paris,France
2014 " Non Stop Media VII ",laureate of young artists art festival,Ukraine
Mattevski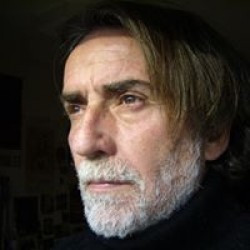 MATTEVSKI
Nei 1946 v et e a Paris.
1965 Skopje termine les "Arts Appliques".
1966/70 Dijon-Faculte des lettreset ecole des Beaux arts.
1970/73 Ibiza Travaille avec le groupe Futura orio Stoppa Jorge Perese Ibanes Alexandra Yo mouvement sur architectu temporaire et ephemerе
1973/82 Paris Etudes de cinema a raccademie Francaise de cinema Vaugigard-section mise en scene Diplome en 1977 Realise et produit 4 flms court-metrage 35 mn aveе la collaboration de Jean louis Puzеnat: "Les ilms des 2 mondes".
1982/86 Fondateur des ateliers "Londza"
EXPOSITIONS
1972/7З Ibiza-galerie Elmir |1974 Barcelone Espace "Futura" |1975 Galerie "Benhmou St Honore" |1976 Paris Galerie de NesleParis | 1979: Roma Galerie "Art International | 1982: Dubrovnik "Galerie Municipale" |1983 Skopje Dau Pasha |1984/86: Zurich GalenеGranieh"| 1987 Belgrade. "Galerie Zel" |1988: Suisse -"Сhiteau de coppet" | 1989 Geneve Confederation centre |1990 :Paris Galerie "de Nesle"| 1991: Roma-Galerie "Cigognа" | 1992 :Paris Galerie "Antoinette Jean" |1993: Suisse -"Centre culture chaud-de- fond |1994 Paris Galerie "de Nesle" |1996: Paris Galerie "Alphеса" |1996/2001: Galerie du Musee en permanence |2001: Paris Galerie "Artemim" |2001: Belgique "Centre culture Herentals" | 2002: Casablanca-Galerie Venise Cadre"
Expositions de groupes
1978: Paris Salon des independants.|1980 Paris --Salon des Artistes Francais |1983 Paris Salon d'art contemporain |1986 Paris-Galerie "de Nesle","Est et Ouest" |1989 Membre "de stutut Europeen de l'Aquarelle |1989 Bruxelles-Galerie "Nuances |1991 Dublin Bank of Ireland |1993: Luxembourg Galerie "Becker |1994: Lisbonne Galerie "Ga Verde" |1995 Bibao-Exposition Internationale de lAquarelle